How to start running – an analysis of my own experiences
Not everyone likes sport. And there is no obligation that anyone should do so. But we do know that it is good for your body and health to get moving even just a little bit. There are those who cannot live without sport. And there are those who are willing and like sport, but do not really believe in their own abilities. And probably everyone, even if to a small degree, can see themselves in these groups. What was it like for me? I must admit that I have probably tried all the recommended ways to get motivated. But I have finally made it.
I cannot run
Most people who know me probably heard it from me many times. I cannot do it. Period. I can play volleyball all day long, go crazy for a few hours on Zumba. But I cannot run. I start running, but just after a few steps I start saying to myself "Wait, wait! You are getting tired. And you cannot." So, I used to give up. I could not overcome it. I know that it was not a matter of being in bad condition (sometimes it was better, and other times worse, but I was prepared physically) but some invisible discouragements in my head. The realization that the problem lied in a roadblock in my psyche has changed a lot and helped me take a step forward.
Following other people's example
Among the advice I managed to find was to find an idol, an authority, or just a running partner. Supposedly, it would have a better impact on the quality of my running, as well as the motivation to do so. Supposedly… because it did not really work for me. At least at the beginning. I admit, after a while, that running accompanied has its value. However, it even… frightened me at first. Because I thought I would not keep up; it would be a shame that I had lost my energy so quickly and stayed behind because I could not make it. So, if someone at the beginning has a similar roadblock in their psyche, like me, I recommend doing several workouts alone. To get to know your own potential better.
Music… gives rhythm
It has been known for a long time that music makes working out more enjoyable. Sure, some people prefer to spend this time with their own thoughts. However, a properly selected playlist will help to maintain good pace, increase speed from time to time, and add some strength and energy in the moments when we think we will not make it. And really, after the first attempts to train with music, when I took my headphones with me, I felt like I reinvented the wheel. Sure, I did not become a female incarnation of Usain Bolt all of a sudden but running just got easier and nicer for me.
A moment of release in the everyday rush
To find some free time for training – that was my biggest challenge in the matter for a long time. Work, domestic responsibilities, a small child… You know what I am talking about. Even If I had managed to find some time for exercising in the evening, tiredness took over. Besides, going to fitness classes or swimming pool is already becoming a real venture (you have to get there, change clothes, exercise, go back, etc.). And it turned out that running takes much less time. I know, another amazing discovery. But when I found out myself that it is enough to put on running shoes and set off on a track, even a short one, it turned out that it is much easier to find free time. And your psyche has a moment of release from the everyday rush.
You do not need any special preparation
I am talking about all kinds of facilities in the form of special shoes, clothes, equipment, etc. I used to be like that – I got excited over some specific activity and I was convinced that it was not even worth trying without proper equipment (manufacturers of the equipment could be proud of me). And then, when willingness, motivation, or possibilities were gone, all those shoes, clothes, and gadgets were my great remorse. Because they are, and I do not use them. This time I changed my approach. It is partially due to the fact that I am trying to implement the zero-waste principle. Okay… less waste. So, I use what I have. I took my old but "fitting" shoes, an old MP3 player, even older headphones, and the first stirrup pants I could find in my closet. And it turns out they are great for running. Well-developed smartphones and applications make it even easier – if you want to measure, for example the distance, time, or the pace.
My first start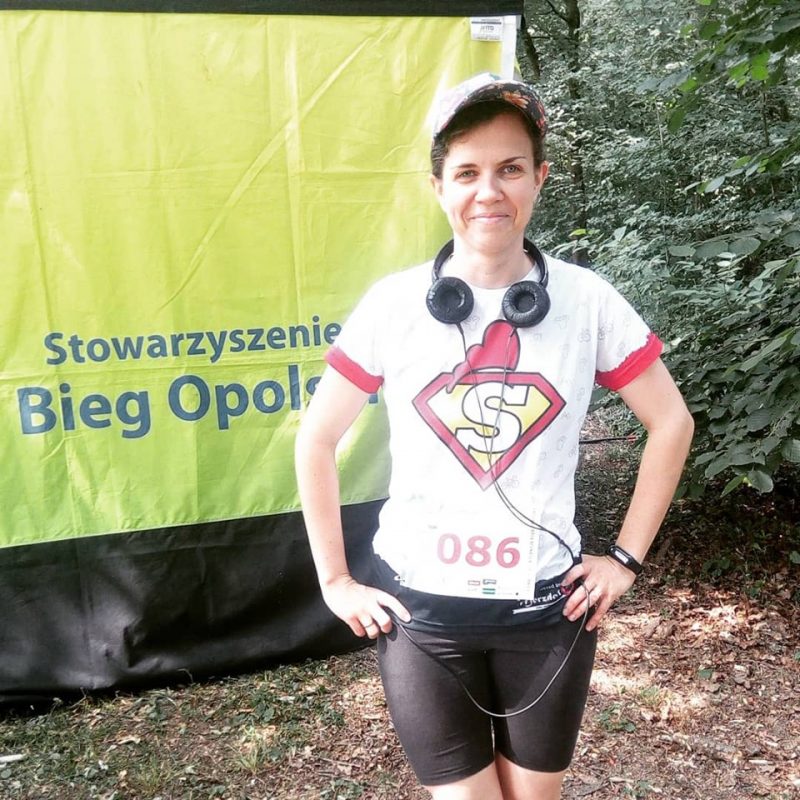 In fact, that is how it all started for me. There is a running event in the city, which has been held for many years – Opole Race. I had seen it many times, been there many times. But it had been either as a fan or for business reasons because of a journalist's work. And I had decided once that I was going to start in the race. Years passed but I had done nothing about it. The moment came when information about the sign-ups for the next edition appeared. I told my husband and… we signed up. We decided there was still a lot of time and we could do it. Time passed and we still did not start training. It is a bit of a shame to admit but we got mobilized quite late. I was not completely sure whether I would finish the run. And even if I managed to finish the run – would I meet the time limit? I had a good motivation at work – Kuba from our team had run on 100 and more kilometers (he will probably also tell about it) and told me that I had to be calm, because it is always better at the competition. And he was right! I ran, finished, and I still had a lot of time left. Will I participate in other runs? It is hard to say. I do not sit in front of the computer searching for new runs. But I just want to run. I wait for the evening (because it is the most convenient time for me) and I start out. Not every day, sometimes less, sometimes more. Sometimes faster, sometimes slower – but I have learned that running can also be for me. And I do not do it for someone else, for the results, or for the fans – I do not fool myself, I am not going to participate in the Olympic games. I do it for my own comfort and pleasure. And that is what it is all about.